Jurassic World: Dominion Dominates Fandom Wikis - The Loop
Play Sound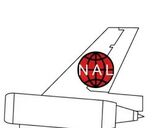 General Information:
Founder: David Sainthands Sr. Commenced operations: 1 of September 1936
Employees: 3.000
Fleet size: 76 aircraft
Destinations: 30
Airplanes: Boeing 747, Mc Donell Douglas DC-10
Subsidiaries: Narus Airlines Cargo
Accidents and incidents: 11of February 2017 Narus Airlines flight 118 crashed.
Frequent flyer program: Narus Sky Club
Director: David Sainthands Jr.
Company slogan: "Your airline"
Website: www.narus-airlines.simdif.com (in english)
www.es-narus-airlines.simdif.com (in spanish)
History:
Narus Airlines was founded on July 27, 1936 by David Sainthands. It is the acronym of National Rutes of the United States Airlines. Its first flight was carried out the 1 of September of 1936 with the route New York-Chicago with a DC-3.
When World War II broke out, its fleet of twenty-three DC-3 aircraft was ceded to the United States Army and because of this from 1941 to 1945 ceased operations temporarily. By the end of the war, many of its planes had been destroyed, but for its help to the nation, it was awarded with a million dollars of the time.
In 1950 he bought ten Lockheed Constellations that considerably modernized his fleet and in 1961 acquired twenty Boeings 707.
The seventies were the time of great splendor of Narus, modernized to complete its fleet scrapping its old Constellations, the 12 of October of 1970 Narus Airlines created Narus Airlines Cargo and on November 2 of the same year the company acquired its current Boeing 747 and DC-10. In 1979 he scrapped his last Boeing 707.
Currently Narus Airlines has a fleet of 76 aircraft in total, has more than twenty-eight destinations operating in five continents and has three thousand employees.
Fleet
[
]
Destinations:
Africa:
Egypt
Kenia
Libia
South Africa
America:
Argentina
Canada
Cuba
Panamá
USA
Asia:
China
Japan
Indonesia
India
South Korea
Turkey
Europe:
Germany
Russia
Italy
Spain
United Kingdom
Oceania:
Australia
Accidents and incidents:
11 of February 2017 Narus Airlines Boeing 747-200 flight 118 was making the Tripol-Cape Town route when a missile impacted cousing the airplane to crash. All 306 passengers and crew onboard were killed. For more information: www.narusflight118.simdif.com